Invisalign
Invisalign straightens teeth without using metal brackets, wires and bands. This system consists of custom-made clear aligners that are fitted over the teeth and designed to gradually move them to their proper position.
Many children, teens and adults today could greatly benefit from orthodontic treatment however they are not too keen on wearing braces. With Invisalign clear aligners, you can get the smile you've always wanted without wearing clunky braces.
Invisalign aligners are comfortable and are barely noticeable. Whether you are an adult who has put off treatment for years or a parent exploring the best orthodontic solution for your child, Invisalign is definitely worth considering.
How It Works
Invisalign aligners are made from a special kind of BPA-free plastic. The aligners are lightweight and smooth, so you don't have to deal with discomfort or pain when wearing them. The aligners are custom-made for each patient to ensure the perfect fit.
Before you receive your Invisalign aligners, your dentist will discuss your smile goals with you and then create an impression of your teeth and 3D images of your teeth before treatment and after treatment. The images and impression will then be used to manufacture your aligners in a licensed laboratory.
You'll be given several sets of Invisalign clear aligners over the course of your treatment and you'll change to new ones weekly. Each one is designed to gradually move the teeth to their proper place. You will only see your orthodontist every 6 weeks (on average) and you'll be given new sets of aligners during each visit.
Who Can Wear Invisalign?
Young adults and adults who have the following issues can be treated with the help of Invisalign:
Crooked Teeth
Overbite
Underbite
Crossbite
Gaps in Teeth
Open Bite
Crowded Teeth
Advantages of Invisalign
Invisalign offers several distinct advantages over conventional braces.
1. Comfortable
Invisalign is definitely more comfortable to wear than metal braces. There are no brackets or wires so you don't have to worry about cuts or nicks in your mouth. The aligner is made of smooth plastic material and won't irritate your mouth.
2. Attractive
Invisalign doesn't have any metal parts and most people won't even realize you are wearing aligners. You won't have to feel overly self-conscious every time you open your mouth to speak or smile.
3. Convenient
Invisalign is fast becoming the preferred choice of people who want to straighten their teeth, because of the inconvenience it offers. You can remove your aligners when you eat and brush your teeth, or even when you play sports. As long as you wear them for 20-22 hours a day, it won't hinder your treatment.
4. Minimal Maintenance Needed
Caring for your Invisalign aligners is easy. You just scrub them every other day to remove stains.
Invisalign and traditional braces are both effective in improving your smile. However, the advantages of Invisalign over braces make it a wonderful option for those who want to have straighter teeth.

Kind words from our patients


"Dr. Barsky is an amazing dentist! He has been my dentist for over 38 years. He is extremely skillful, gentle and kind. He is also very patient and explains the procedures very carefully."
- Karyn Lerner
March 16, 2023

"Dr. Barsky and his staff are simply the best around. I come from a family of dentists and I'm very discerning when it comes to Drs. I know I'm in good hands here."
- Peter Horowitz
March 7, 2023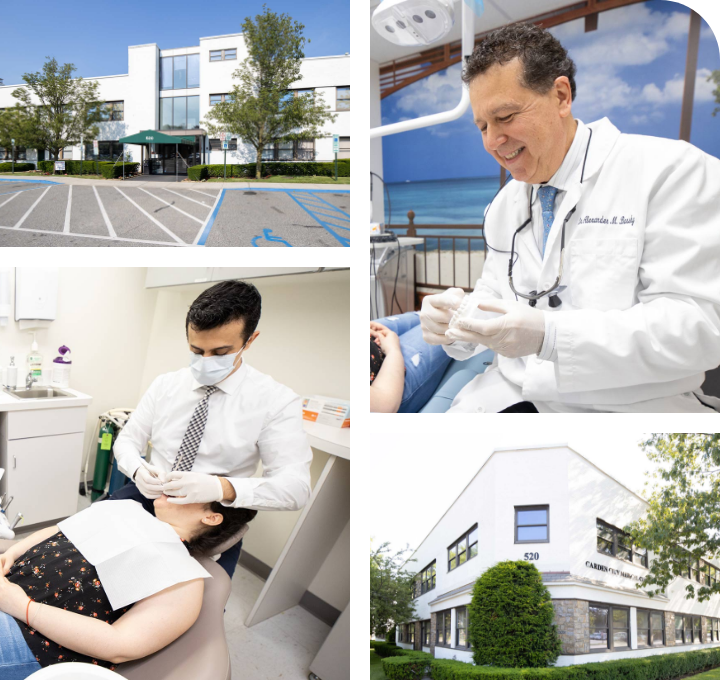 Contact our dental office if you have any questions or would like to schedule an appointment. If you need to reach us right away, please give us a call.
520 Franklin Ave
Suite L-11
Garden City, NY 11530
Mon/Wed         9:00 am to 6:00 pm
Tues                  11:00 am to 7:00 pm
Thurs                12:00 pm to 8:00 pm
Alt Sat               9:00 am to 3:00 pm