Your dental health is our primary concern and we provide an array of services to help you maintain good oral health. We offer CLEANINGS to get rid of plaque and tartar buildup, and you can get FLUORIDE TREATMENTS to strengthen and protect your teeth against cavities.
Our practice also works with various DENTAL SPECIALITIES to make sure that our patients are given the dental care and treatment they need to keep their teeth and gums in optimum condition.
CHILDREN'S DENTISTRY is also part of our services and we encourage parents to schedule their kids for dental visits as early as possible. Establishing good oral habits early can really help kids avoid a lot of potential dental problems later in life.
We perform COMPREHENSIVE EXAMS for new patients and for our current patients every 3 years to monitor their oral health. We also educate our patients about the importance of proper ORAL HYGIENE and we recommend regular ORAL CANCER SCREENING so that any signs of cancer can be detected as early as possible.
Patients with damaged or missing teeth can opt for CROWNS and BRIDGES, or even DENTURES; while those who have cavities can still get FILLINGS to prevent further decay of the tooth.
If you have badly decayed teeth or you experience tooth pain, please contact our office right away as you may require EMERGENCY CARE. Our dentist may recommend EXTRACTIONS as part of your emergency treatment depending on the root cause of your condition.
We also use state-of-the-art diagnostic tools and equipment including DIAGNOdent, DIGITAL X-RAYS and INTRA ORAL CAMERAS to ensure the most accurate diagnoses. Patients requiring dental treatments may benefit from LASER TREATMENT and WATERLASE DENTISTRY which provide precise and trauma-free solutions to an array of dental issues.
If you are always anxious about your dental appointments, SEDATION DENTISTRY such as NITROUS OXIDE SEDATION may be recommended so that you will feel relaxed and comfortable throughout your procedure.
Our office also provides ORTHODONTIC TREATMENTS such as braces and Invisalign for patients who have malocclusions and similar issues.
Finally, if you snore when you sleep, you could benefit from using MOUTH GUARDS. There are many types available such as athletic guards and snore guards, and your dentist will recommend the best one for your needs.
For more information about our DENTAL HEALTH services, please click on the links found at the right hand corner of this page.

Kind words from our patients


"Dr. Barsky is an amazing dentist! He has been my dentist for over 38 years. He is extremely skillful, gentle and kind. He is also very patient and explains the procedures very carefully."
- Karyn Lerner
March 16, 2023

"Dr. Barsky and his staff are simply the best around. I come from a family of dentists and I'm very discerning when it comes to Drs. I know I'm in good hands here."
- Peter Horowitz
March 7, 2023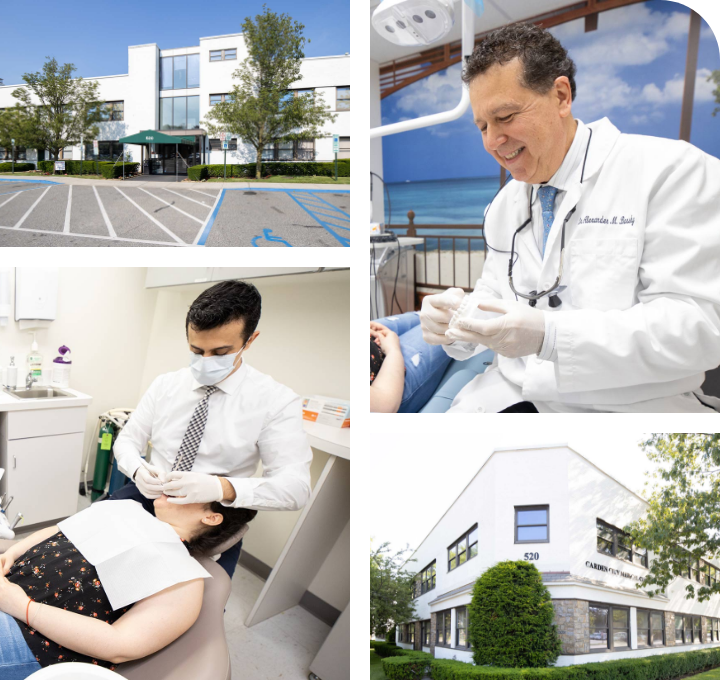 Contact our dental office if you have any questions or would like to schedule an appointment. If you need to reach us right away, please give us a call.
520 Franklin Ave
Suite L-11
Garden City, NY 11530
Mon/Wed         9:00 am to 6:00 pm
Tues                  11:00 am to 7:00 pm
Thurs                12:00 pm to 8:00 pm
Alt Sat               9:00 am to 3:00 pm