Cosmetic Smile Lift
Here at Franklin Avenue Dental Care, we offer a variety of solutions to improve your smile.
With the highly advanced technology from BIOLASE, our dentist is able to perform procedures without causing trauma to the teeth, and at the same time, ensuring precise and effective treatments.
Our dentist is also specially trained to stop the progression of early cavities using pain-free, DRILL FREE DENTISTRY without the need for needles or drilling tools.
Some of the cosmetic dental solutions we offer include PORCELAIN VENEERS, LUMINEERS, IMPLANT RESTORATIONS and TEETH WHITENING. Porcelain veneers and Lumineers are recommended for patients with all types of tooh imperfections such as chipping, cracking or discoloration.
For those who are missing one or several teeth, IMPLANT RESTORATION can provide you with permanent replacement teeth. You can choose from 3 superior dental implant systems: NOBEL, ZIMMER and NEOSS.
INVISALIGN uses invisible aligners that can correct teeth and jaw misalignment problems, and it is suitable for those who do not want to wear traditional braces.
If you want to have a brighter and more attractive smile, consider professional TEETH WHITENING. We provide effective teeth whitening options such as KOR WHITENING and ZOOM TEETH WHITENING which can give you fast and impressive results.
To know more about our cosmetic dental services, please click any of the links on the right side of this page.

Kind words from our patients


"Dr. Barsky is an amazing dentist! He has been my dentist for over 38 years. He is extremely skillful, gentle and kind. He is also very patient and explains the procedures very carefully."
- Karyn Lerner
March 16, 2023

"Dr. Barsky and his staff are simply the best around. I come from a family of dentists and I'm very discerning when it comes to Drs. I know I'm in good hands here."
- Peter Horowitz
March 7, 2023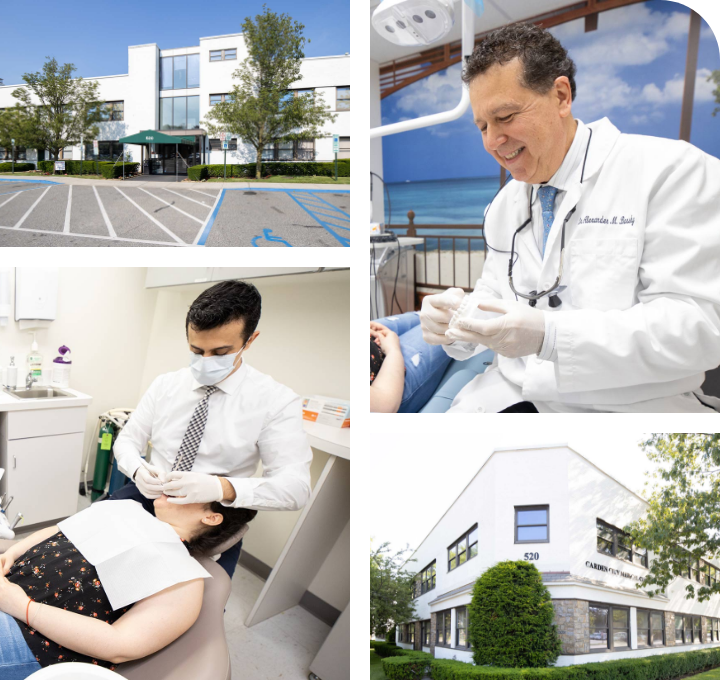 Contact our dental office if you have any questions or would like to schedule an appointment. If you need to reach us right away, please give us a call.
520 Franklin Ave
Suite L-11
Garden City, NY 11530
Mon/Wed         9:00 am to 6:00 pm
Tues                  11:00 am to 7:00 pm
Thurs                12:00 pm to 8:00 pm
Alt Sat               9:00 am to 3:00 pm