Orthodontics
Orthodontics is a branch of dentistry that corrects improperly positioned teeth and jaws. It treats bad bites (also known as malocclusions), a condition in which the lips/jaws don't line up the way they should, so the teeth do not fit together properly. Crooked teeth are much more difficult to clean and are prone to decay and gum disease. Individuals with crooked teeth are also likely to develop TMJ symptoms including pain in the jaw, neck, back and shoulders.
Treating orthodontic problems is also important because it can affect your self esteem. An unattractive smile makes people more self-conscious and if left untreated, may cause a person to cover their mouth when they speak. They may probably not even smile at all.
Bad bites are treated by orthodontists using dental appliances like braces.
Causes of Orthodontic Problems
Many bad bites are hereditary, which means you may have inherited it from your parents. Genetic issues include crowding, spacing, protrusion, and jaw growth issues. But not all cases are due to your genes. You may develop bite problems due to poor oral habits in the past, loss of permanent teeth or an accident.
How Soon Should Kids Be Seen By an Orthodontist?
According to the American Association of Orthodontists, children should visit an orthodontist as early as 7 years old. At this age, the specialist can already recognize possible issues which are much easier to correct when found early.
However, even adults can benefit from orthodontic treatments. In fact, braces work at nearly any age. Around 1 in 5 ortho patients is older than 18.
Who Are Candidates for Orthodontic Treatments?
If you have any of the following issues, you should see an orthodontist:
Spacing – There are spaces or gaps between your teeth.
Crowding – You have too many teeth.
Overbite – The upper front teeth is positioned too far forward compared to the lower teeth. This is often known as buck teeth.
Underbite – The lower teeth are positioned too far forward compared to the upper teeth.
Open Bite – When you try to bite the back teeth together, there are spaces between the front or side teeth's bite surfaces.
Cross Bite – When you bite normally, the upper teeth do not go down slightly in front of your lower teeth.
Misplaced Midline – The center of your lower front teeth does not line up with the center of your upper front teeth.
Types of Braces
You can choose from ceramic and metal braces. Ceramic braces are clear braces which makes it a better esthetic solution without compromising the effectiveness of the treatment. Metal braces are your traditional braces which are very durable and are suited for those who want to show off their braces. There's another option and it's called Invisalign. It's a set of clear plastic aligners so they are not visible when worn. It's a great choice for people who don't want to wear traditional braces, however it may not be suited for some complex orthodontic issues.
Your Role in Treatment
Any orthodontic treatment requires a collaborative effort between the patient and the dentist. You need to follow your dentist's instructions, attend all appointments and maintain good oral hygiene such as brushing your teeth regularly and visiting your general dentist regularly for cleanings and check-ups.
The duration of the treatment will take from 1-3 years and you'll also undergo a retention phase which involves the use of retainers. The cost of treatment depends on the extent of misalignment as well as the length of your treatment.
We're happy to discuss financing options and treatment costs during your consultation. You can schedule an appointment with us by calling our office at (516) 268-5830.

Kind words from our patients


"Dr. Barsky is an amazing dentist! He has been my dentist for over 38 years. He is extremely skillful, gentle and kind. He is also very patient and explains the procedures very carefully."
- Karyn Lerner
March 16, 2023

"Dr. Barsky and his staff are simply the best around. I come from a family of dentists and I'm very discerning when it comes to Drs. I know I'm in good hands here."
- Peter Horowitz
March 7, 2023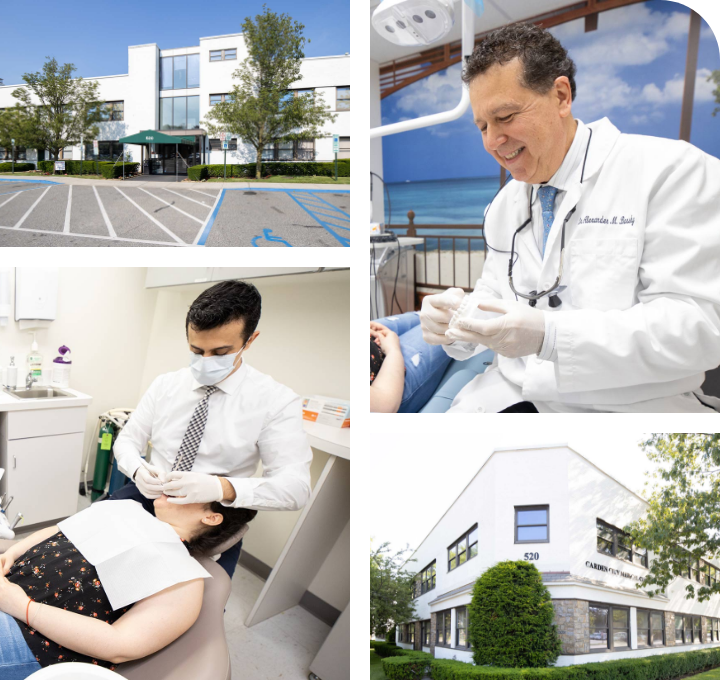 Contact our dental office if you have any questions or would like to schedule an appointment. If you need to reach us right away, please give us a call.
520 Franklin Ave
Suite L-11
Garden City, NY 11530
Mon/Wed         9:00 am to 6:00 pm
Tues                  11:00 am to 7:00 pm
Thurs                12:00 pm to 8:00 pm
Alt Sat               9:00 am to 3:00 pm